Closures
Swimming Dates
Seachtain na nGaeilge
Pancake Tuesday
Board of Management

Latest News!
| | |
| --- | --- |
| Final day for 6th class; Presentations and farewells! | |
| | |
Infant School Tour, June 2017
Infant School Tour.
| | |
| --- | --- |
| | The infants had a great year on their school tour, travelling to a farm firstly and then onto Dreamworld to finish. All had a lovely time! |
| | |
| | |
Mayoral Visit to Tineteriffe!
Mayoral Visit to Tineteriffe!

We were delighted to welcome the Limerick mayor, Kieran O' Hanlon to Tineteriffe N.S. He was joined by the deputy mayor, Noel Gleeson and local councillor, Brigid Teefy. He wore his robes and mayoral chain and we were all interested to learn a little about the hisory of the chain and the role of the mayor in Limerick.

In honour of his visit, we wore our Cappamore and Limerick colours and sang a local song 'The Fair of Cappamore', to welcome him to our parish. We were pleased to find out that he was a rugby fan as our parting song is the well known rugby and Limerick song, 'There is an Isle!

5th class with the Limerick mayor, Kieran O' Hanlon

Junior and Senior Infants with the Limerick mayor!

5th and 6th classes with the Limerick mayor!
Limerick Clean Up in Tineteriffe!
Pancake Day!
| | |
| --- | --- |
| | |
| | Pancake Day in Tineteriffe is one of the children's favourite day in school! The Parent's Council were busy cooking and tossing pancake to feed all the classes! All proceeds this year went to the 95FM Stop Tour. |
| | |
10@10! Tineteriffe Keep Fit together!
10@10! Tineteriffe joins Operation Transformation!
<
Halloween Fun!
Congratulation to the Cappamore Camogie Team!!!
| | |
| --- | --- |
| Tineteriffe N.S. were delighted to welcome the newly promoted Cappamore camogie team to our school! What a great achievement! | Many of the girls in Tineteriffe play camogie and seeing such enthusiasm for the game is a great incentive to continue to practise and participate! Thanks to all who visited!!! |
6th Class Graduation, Congratulations!
6th Class, 2008 - 2016!

Congratulations to Tineteriffe's 6th class who graduated on a lovely summers evening. It was a very nostalgic night as we remembered their eight years spent in school.

Thanks to Fr. Browne who celebrated mass and also to the Parent's Council who prepared a wonderful feast for us all to enjoy afterwards.

We wish them all the very best in their chosen secondary schools.
Teddy Bear Picnic in 1st and 2nd class, June 2016!
Infant Tour to Parsons Green, June 2016
1st and 2nd class tour to Middleton Farm, June 2016
4th and 5th Class Forts
Raising of the Irish Flag on Proclamation Day!
March 15th, 2016!

What a beautiful day and a wonderful setting for the raising of the Irish flag on Proclamation Day! Tineteriffe pupils and staff gathered in the school garden to proudly assert our Irishness. We sang Hail Glorious St. Patrick to begin, followed by an excerpt from the proclamation. Then as Caoilinn played an old Irish air on the concertina, Rose, Heather and Alex, hoisted the Irish flag into the sunshine and gusting breeze.

We prayed for all those who died during the rising, the first world war, and loved ones whom we ourselves remembered. Finally we hoped for peace thoughout the world and an end to violence. As we faced the Irish flag, all voices joined in song to conclude with Amhran na bhFiann.

The rest of the day was enjoyed by all, with a ceilí and a trath na gceist, and more lovely events to look forward to on Wednesday as a continuation of our Seachtain na Ghaeilge!
Swimming Dates;
Juniors and Seniors

18th May, 25 th May, 1 st June, 8 th June

Tipp Pool 11.30

First, Second and Third Classes

18 th May, 25 th May, 1 st June, 8 th June

U.L 11.00

4th, 5th and 6th Classes

20 th May, 27 th May, 3 rd June, 10 th June

U.L - 10.00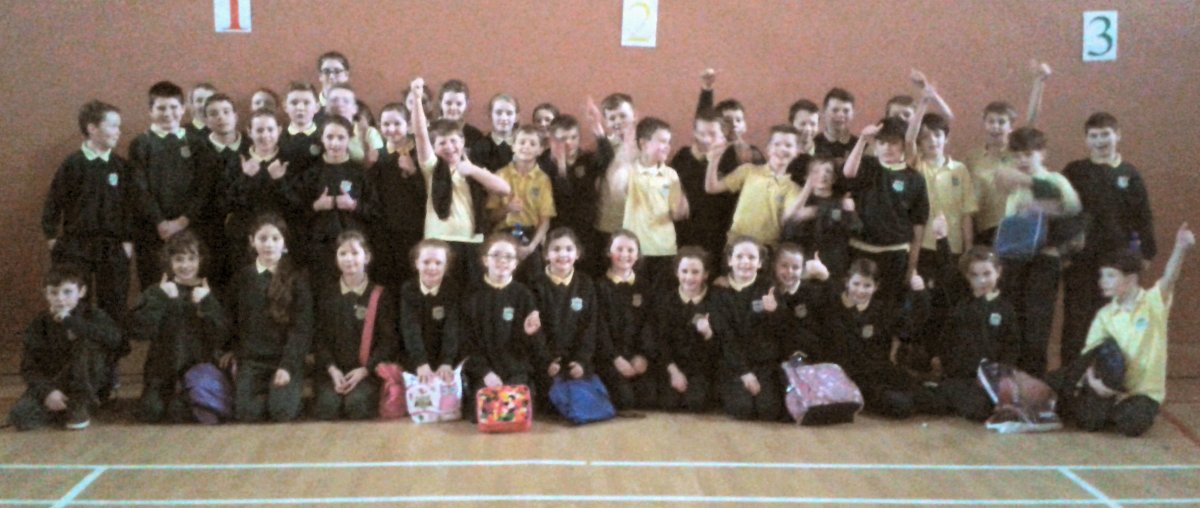 Team Tineteriffe!
Athletics in Cappamore!

Today 5th and 6th girls and boys went into Cappamore to do athletics. It was really fun and we did lots of activities. We raced against Scoil Chathriona, Bilboa and Croom .We start off with chest pushing and triple jumps and vertical jumps .I did the chest push. Then we had lunch and afterwards we did the running and obstacle courses. We won some and we lost some . At the end we took a picture and we got back on the bus and went back to school.

Anna; 6th Class.

My Athletics Competition!!!

On Thursday , 3rd 4th 5th and 6th went to Cappamore sports hall for an athletics competition. We were against Bilboa, Scoil Chaitriona and Croom. All schools were really good. First we did all the field events. That was stuff like chest push, jumping, javelin and stuff like that. It was kind of hard to see how we did in that field events because a lot of them went on at the same time.
After a while we started on the running events. Tineteriffe won both of the races I was in. Tineteriffe won most of their running races actually. If we get through to the next round, we will be going up to Athlone for the national competition. Everyone had a great day anyway.

Rose; 6th Class

Today most of 4th 5th and 6th class went to Cappamore sports hall for athletics. 4th class were the junior group and 5th and 6th class were the senior group. The first group to go were the junior group they were very good and fit. Next the senior group went and they were great. The schools that went were Tineteriffe, Scoil Cathriona and Bilboa. There were Ty students and college students there to help us out through the day. The people that organised the event provided snacks and drinks for all the school and we all had our own lunch as well so we were not hungry . We got back to the school at around 1:30 to 2:00. We had a lot of fun on our day out and we are lucky that we get opportunities like these ones. We are grateful to our teachers for bringing us to the athletics.

Jeffery; 6th Class
Ist and 2nd Class;

On Wednesday 17th of February teacher let us have a Bring and Show Day. We had some interesting things such as a planetarium, a horseshoe, American dollars, daffodils, a certificate and an American baseball bat. We looked at constellations. One of them is called Hercules and another Cassiopeia . We played a game on the White board where we had to find the constellations . It was difficult but fun.
Written by Shane and Jacob (2nd class)

This is a picture of 1st and 2nd class proudly displaying all their wonderful objects!
Community Games East Limerick Competition!

Well done to the 5th and 6th class quiz teams that participated in the table quiz held in the Community Centre in Cappamore on Sunday 14th of February. One of the teams came 2nd and go forward to the county competition to be held in the Woodlands Hotel!

County Competition

The next round of the Community Games Quiz takes place on Thursday 25th February in the Fitzgerald's Woodlands House Hotel, Adare at 7pm sharp.

School from East Limerick who have qualified are;
Cloverfield N.S.
Tineteriffe N.S.
Bilboa N.S.
Monaleen N.S.
Pancake Tuesday in Tineteriffe!
| | |
| --- | --- |
| Infants tossing the pancakes! | |
| Yummy, yummy! Happy faces! | Up, up and away! |
| What a throw! | |
| Well done! | Smiles all round from 3rd class! |
| 5th and 6th classes! | Thanks to the wonderful Parent's Council for organising one of the children's favourite events of the year! The money raised was for iCan, a children's arthritis network. €280 is on its way to this worthy cause! |
| | Enjoying their first Pancake Day in Tineteriffe |
| | |
Board of Management Meetings;
The Board of Management met on Monday 3rd of October at 8.15pm. The Board reviewed the Child Protection Policy. It discussed health and safety and ongoing works in Tineteriffe.
The Tineteriffe Board of Management met on Monday February 8th, 2016. The Board discussed the training seminar held in the Ballykisteen Hotel which recommended best practices to be used by Boards during their term of office. Principal, Kitty Sheehan detatiled the various events happening in the school at present. In literacy, the school is still focussing on developing the use of audio books and different strategies to help with reading comprehension. In numeracy the focus is on a step by step approach to problem solving. The Board looked at bell graphs contrasting Tineteriffe's outcomes in Maths and English standardised scores. Tineteriffe scores are above the national norm. The Board will next meet in April.
The Tineteriffe Board of Management met on Monday, 11th April, 2016. The Board reviewed the Health and Safety policy with minor ammendments made. It reviewed the Critical Incident Policy, with changes made to the roles and repsonsibilites. The Board reviewed the Mission Statement, again with some ammendements and passed it to the Parent's Council and staff for their input. The school will adopt a new motto following consulation with all members of the school community. The Board discussed ongoing upkeep of the school and plans for its continued improvement. Literacy and numeracy targets remain the same. The Board will next meet in May.
The Tineteriffe Board of Management met on Monday 12th of June, 2017. The Board organised works to be done over the summer holidays. They reviewed English and maths standarised test results in the school. The Board discussed policies to be reviewed, created and updated in September. The Board will next meet in October 2017.
Christmas Celebration!
Congratulations to 1st and 2nd! What a win! Look at their video!!
| | |
| --- | --- |
| Cathal and Ruth received the prize from Aodhan O' Riordain at Farmleigh House on Thursday 10th December. | |
Someone like me

Someone like me

I am special

I'm unique

We all look different in every way

We are brown, we are blonde, I am red, hip hurray.

Some are quiet, some are shy

Some can often easily cry,

Some are calm and some are wild,

Full of laughter in their mind.

We like to draw and we like to write,

We like to colour into the night,

We like to run and we like to play,

We love to do Maths all day.

We can't all hear with our ear,

We can't all talk or walk,

Some of us find it hard to learn

We all have different needs.

We must remember every day,

People are different in every way,

Be kind to others with different needs,

Give them a chance to shine

Yes!

Give them a chance to shine!

1st and 2 nd class entered a competition in October called 'Someone like me' run by the Dept of Justice and Equality. It was a competition to raise awareness and acceptance of people with special needs. We got word on Monday 1st December, that we were the Limerick County Finalist! We are very excited to have won 2,000 euro worth of computer equipment for our school and so we go forward with a chance of winning at all Ireland level.

Well done 1st and 2nd Class and their teacher Mrs. C. Ryan!
4 th and 5 th classes cooked pumpkin soup using pumpkin that they grew in the school garden. The children contributed extra vegetables and coconut milk!
| | |
| --- | --- |
| | |
| | The soup was served with home-made spelt rolls baked that morning by the Spratt family. It was delicious and nutritious and all leftovers were enjoyed by our resident hens/ composter! |
Presentation of the Irish Flag to Tineteriffe N.S., November 2015
They presented us with an Irish flag. the green on the flag represents the Irish republic. The white means peace. And the orange is to represent Northern Ireland.
Jeffrey; 6th class reporter!

A moments silence for victims of terrorism


Today two people from the defence forces came to our very proud school. They came and presented us with an Irish flag and the Irish proclamtion that was first read on the steps of the GPO 100 years ago! The men told us about weaponery and going abroad. They both had a lot of medals. They answered all of our questions very well!
Grace; 6th class reporter.


They were telling us not to leave the Irish flag up when it is dark and to raise it when it is bright!
Jamie; 5th class reporter!

Today the Irish Defence Forces visited Tineteriffe N.S. They presented the Irish flag to the school. Two members of the army came. They told the pupils about the 1916 rising. The school also had a moment of silence for the victims of the Paris attack.Then the pupils asked questions of the two visitors. Two students read out a section from the proclamation and finally the school sang Amhráin na BhFiann.

Reporter; Emma 6th Class!

Today two members of the Irish Defence Forces came to visit our school. They presented us with an Irish flag and an Irish proclamation. They told us all about their journeys across the world and what it is like to be in the army. They told us about the guns and vehicles the use. Every morning they raise the Irish flag and in the evening they lower the flag. They make sure it doesn't touch the ground. They also told us about the meaning of the flag's colours and who created the flag. When the soldiers left, we all gave them a round of applause.

Reporter; Anna 6th class reporter!

Two memn from the army came to our school today. The sergeant was talking all abour the flag. The corporal had six or seven medals. They were wearing a sort of blazer, a green tie and a sort of very light gree shirt. they were alos wearing a cap with a flat surface on the top. They answeree nearly all of our questions. Anna and Ogie went up to receive the flag. WE all had a great time. I might want to join the army my self when I am older.

Seamus; 5th class reporter!
Recipe writing, fairy cake making and decorating in 1st and 2nd classes, Nov 2015
| | |
| --- | --- |
| | |
| | |
| | Ist and 2nd Class Art Work! |
Remember if you see a bee, let it be! November 2015
Buzzing with Bees!

We had a very informative session with Sinead Finn about bees, their habitat and habits. Not only that, but she helped us to create different things to encourage and support bees on our school grounds. 5th and 6th made a bee hotel, which allows solitary bees ( of which there are 78 different varieties in Ireland) set up home. Other classes created flower papers which can be laid on the soil in spring time so that wild flowers will grow. The species chosen are favourites of bees.
Great fun in Tineteriffe on our Dress Up Day in aid of the ISPCA!
The junior and senior infants about to tuck into their delicious Halloween cupcakes! They had great fun baking in their classroom using the eggs they collected from our Tineteriffe hens every morning.

Halloween Dress Up!

What a great day we had in Tineteriffe surrounded by all sorts of ghouls and monsters! Many characters from stories and films visited us and we all laughed at the ingenuity shown by the boys and girls!

The money we collect as part of the dress up is donated to the ISPCA in Limerick to help rehouse and feed animals in need.

Have a lovely Halloween break!
History in the Infant Room!

Juniors and senior infants brought in toys that their mums, dads, grannies and grandads had when they were small.We had great fun looking at the old toys and comparing them to some of our new toys.

October 2015!
Our new junior Infants September 2015!
A Circle of Friends

We've joined together as classmates
as the new year begins...
A year full of learning
while we become friends.
We'll share and be kind
as we work and play.
And our friendship will grow
with each passing day.

Juniors and seniors
Ella's Entry in the Yeats' Poetry Competition

Tired of the busyness,
Tired of the noise,
I want to go to Innisfree for the peace,
To see the purple sky,
To see the night glimmer,
and to see linnets fly,
I want to go to Innisfree!
6th Class Graduation, June 2015.
| | |
| --- | --- |
| | A special night for our 6th class and their families, when they celebrated their eight years in Tineteriffe N.S. It began with mass concelebtrated by Fr. Browne and was followed by a party in the school hall. |
1st and 2nd Class Tour!
3rd and 4th Class Tour to Spike Island
Yeats Poetry Competition

It was a lovely, memorable day for Ella and her family when they travelled to Sligo for the launching of the Yeat's poetry book. Ella's poem was printed as part of this national competition, in response to a Yeat's poem. Ella chose the Lake Isle of Innisfree as the inspiration of her poem. Pictured with Ella as she recives her award is ; Martin Enright ( vice president of the Yeat's society), Senator Susan O' Keefe (National Yeats Committee 2015), Poet Ella Joyce and Mary Hough ( Director of Sligo Education Centre). Awards were given to children from the same county at the same time.
5th and 6th Class Tour!
Infants Tour!
| | |
| --- | --- |
| | |
| | |
| | |
| | The boys and girls from the infant classes had a fantastic tour recently. A great hands on pottery session where they go to make their own pot. This pot will be fired in the kiln in Ballymorris Pottery and returned to the school for September as a momento of the occasion. On to Delta, where there were a multitude of activities for all. |
| | |
| --- | --- |
| | Congratulations to the children of second class who received the Sacrament of Holy Communion on Saturday the 9th of May. It was a lovely celebration in the church in Cappamore, with a lovely choir fronm the three schools helping in the celebration. |
Great baking in the 4th and 5th classroom!
Tineteriffe Swimmers!


Tineteriffe Swimmers!

Well done to the boys and girls who represented Tineterrife and Cappamore at the community games in Askeaton pool.Cathal Mulcahy won gold in u8 frontcrawl,Niamh Mulcahy won silver in u12 front crawl,and Gearoid and Niamh Mulcahy,Rose Clancy and Sarah Howell won bronze for the relay.
| | | |
| --- | --- | --- |
| | | Our seachtain na nGaeilge céilí! A lovely way to finish off the term. Rang a 4 agus 5 put on a show, with Irish music from Caoilinn on the concertina and a great brush dance performed by Matthew, Abbi, Niamh and Erin. Finally we all joined in dancing the Siege of Ennis .Great fun! |
| | |
| --- | --- |
| We had a wonderful seachtain na nGaeilge with songs and poems from the infants, table quizes for all classes, radio Toinnatairbh! And to finish our week a wonderful play incorporating many familiar fairy tales written by Mrs. C Ryan! Well done to all! | |
Bun Making in the Infants Classes
The Story of Setanta by 2nd and 3rd classes
Omelettes!
Pancake Tuesday in aid of First Light, a local charity.
| | |
| --- | --- |
| Three chickens have finally arrived in Tineteriffe. They are slowly adapting to their new environment. Each class has reponsibility for looking after the hens for a week. They are laying already with two eggs laid on Monday! | Using the eggs the hens laid! |
Musical Instruments!
Our New Arrivals! January 2015!
"Teacher, the robot ate my homework!"
4th and 5th Class build snowmen! January 2015
| | |
| --- | --- |
| | 1st and 2nd class have created a wonderful clay village! Welcome to Clayvery village! |
Christmas Concert!
| | |
| --- | --- |
| | The Christmas concert was a great opportunity for the children to showcase their talents.It is a much loved annual event. Great help is given by the Parent's Council in manning the doors, and organising a raffle. Well done to the staff of Tineteriffe who put in a lot of extra hours in getting the show on the road! |
All Ireland Winners!
Tineteriffe was delighted to welcome two of it's past pupils back to school! Lisa Leonard and Róisín O' Malley viisted us carrying three cups which they recently won. Both girls were on the victorious Murroe Boher football team who won club All Ireland glory. They described the thrilling matches they won, at county level, munster glory and the ultimate accolade of All Ireland winners. Here they are pictured with delighted boys and girls and also with Mrs. Meskell who trained the girls when they were in primary school! Congratulations on a wonderful achievement!
Christmas Boxes!
Team Hope

Norah Collins from Team Hope came to Tineteriffe to collect our Christmas boxes. These will be distributed to children living in poorer countries abroad. Thanks to everyone who supported this worthy cause. Norah collected 46 boxes from our school.

Here are some of our 6th class girls helping to fill the Christmas van with boxes!
| | |
| --- | --- |
| Halloween Dress Up on Firday 24th of October was a great way to celebrate the beginning of the mid-term.Vampires, witches, rockstars, and zombies of all sorts lined up at 9.15am and strolled into Tineteriffe! This was done in aid of the ISPCA. | |
Musical Instruments!
First & Second class have been busy in the past week creating their own musical
 instruments. Students instruments ranged from guitars, harps, maracas,
 drums, harps, tin whistles, harmonicas & bongos!
Open House Event in Limerick City
| | |
| --- | --- |
| 5th and 6th classes visited the Limerick City gallery and were invited to look more carefully at Limerick's wonderful architecture! | |
6th Class Graduation Mass

Congratulations to Tineteriffe's 6th class who had their graduation mass on Wednesday night, June 25th. It was a special night for them and their families celebrating their happy memories of school!

Congratulations to Orlagh, Rachel, Darragh, Marty, Aisling, Siobhán, Maxine and Adam!
5th and 6th Class Tour to Dublin!
2nd Class Tour to Lough Gur!
Tineteriffe's third Green Flag!

Well done to Tineteriffe's greenschool committee, who, under the stewardship of Mrs. Meskell, guided us towards our third green flag. Three of the hardworking committee travelled to Cork to collect the flag on the school's behalf.

This year the emphasis was on the consevation of water. Thursday 29th, may was our great 'Water Day'! Fancy dress, wellie throwing among the fun things to do. Coupled with that wonderful water projects on display in the hall with hands on experiments to try out!
Spring Clean April 2014, Along the Eyon Road!
Spring Clean;
I went picking up rubbish on the narrow road. I was looking very carefully for rubbish in the ditches.Séamus found a piece of iron and he wanted to keep it in his bedroom. I got to use the litter picker and a bag!
Sam; 2nd Class!

Me and my friends cleaned happily. It was very sunny, the strong weeds were hard work to pull. Everyone was working hard. The slim road was dangerous. I was with Sarah, Cian, Donnacha, Caitlin, Orla and Paddy!
Niamh; 2nd Class!

When we went on the fantastic spring clean, we found a lot of dirty litter.People shoudn't be littering,..... should they? No! But we picked the litter up today. We were working hard. I had big gloves and a big, high visibility jacket. Niamh, Sarah and Caitlinn were on my brilliant team!
Donnacha; 2nd Class!
The Opening of the new Cappamore Library, 14th April, 2014
| | |
| --- | --- |
| | Congratulations to the boys and girls of 2nd class who received the Sacrament of First Penance in Cappamore on Wednesday, 9th April. All went back to the school afterwards for a celebration with their friends and family. |
Easter Holiday visit of Séamus Toibin, Magician extrodinaire!
A Wonderful Magical Visitor!

On the last day of the Easter term, we were delighted to welcome Seamus Toibin to our school who enthralled us with his great magic tricks and sense of humour! Many of the children became apprentice wizards during his show and helped him perform his many pieces of magic. Even poor Ms Sheehy jooined in the fun with her head almost chopped off, to the delight of some of our pupils and the horror of others!
Pancake Day, in aid of Cappamore Day Care Centre, run by Tineteriffe's wonderful Parent's Council!
Native American Homes created by 3rd and 4th!
Click here to view more of 3rd and 4th classes work!
http://www.youtube.com/watch?v=rrIiQ-MRv7E Copy this and view 2nd and 3rd's soccer diaster on youtube!
| | |
| --- | --- |
| | Well done to the boys and girls from 4th, 5th and 6th classes who participated in the Peace Proms held in the Sports Arena in UL. They were the backing choir, (along with ten other primary schools the area), for a youth orchestra comprising teenagers from both north and south.It was conducted by Gearoid Grant and the pieces played and sung were lively and modern. It was a wonderful night. Thanks also to Ms Ryan, Mrs. Meskell and Anne who taught the children the music and chaperoned the children on the night. |
Clann Cluana Drama Visit; January 2014!
Clann Cluana

Well done to the drama group who travelled from Urlingford to join us in Tineteriffe. They gave a captivating account of the birth of Setanta up to the stage when he takes his new name Cúchalainn! It was full of fun and humour and all enjoyed the great performances!
| | | |
| --- | --- | --- |
| | | |
| These are the beautiful Christmas Cribs created by 3rd and 4th classes. | Well done to all the boys and girls who took part in our annual Christmas concert! We all enjoyed doing our own version of Charlie and the Chocolate Factory! | Nollaig Shona dhaoibh go léir! |
Cappamore County Champions!

The pupils of Tineteriffe were delighted to welcome Cappamore's football champions to our school. Paul Leahy ( captain ) explained to the children about the cups they'd won and their journey to the final. Many of the children wore their Cappamore colours for the occasion.

On the concert night in the community centre in Cappamore, three of the team; Brian Leahy, Andy Murphy and Seamus Humphries (a past pupil) presented medals to the winning football and hurling teams of 2012. It was a pleasure to welcome our sixth class boys of last year onto the stage.
The New Classroom has begun!
Foundations being dug.

Sub floor being compressed.

October 2011

The diggers are in! The classroom work has begun with some of the clearance work in the carpark begun also! Each day we have something new to admire and interest from the children in the development is huge!

Children admiring work in nearby carpark area.
| | |
| --- | --- |
| | Closures for 2016-2017 |
| September | |
| October | Monday 31st October- Friday 4th November |
| November | |
| December | Christmas Concert; 14th December at 7.30pm. Christmas Holidays; Close at 12.30pm Tuesday 22nd December |
| January | 9th January, School reopens after Chrismas Holidays. |
| February | Monday 20th to Friday 24th February, Mid Term Break |
| March | 17th March. St Patricks Day , Monday, March 20th; School closed due to staff training day. |
| April | 7th April; Easter Holidays, school closes at 12.30pm. Reopens Monday 24th April |
| May | Saturday 6th; Holy Communion |
| June | Thursday 1st June;Confirmation ( school open for all other classes) Summer Holidays; Friday 30th June,School closes at 12.30 p.m. |
Green Flag Day
A proud day for Tineteriffe N.S. as we welcomed our local hero to hoist our Green Flag.


John Hayes and the staff and pupils of Tineteriffe N.S.

Click here for more!
Winner of best picture in the , 'Farmers Journal'
Let's grow potatoes!!

This is a picture of our potatoes. It is called "The borrowers steal our spuds!".

We planted our crop in February. We'll harvest them in June. We took this photo for a competition. Hopefully we'll be in the Irish Farmers Journal. We measured the spuds for two weeks and now they're over a metre long and we had a spud rota for the measurements. We water the spuds every day. We're making a scrap book for the competition. We made a chart to see how much spuds we eat. We're looking forward to digging up our giant spuds in June so wish us well!

By Meabh and Ryan
---