Closures
Swimming Dates
Seachtain na nGaeilge
Pancake Tuesday
Board of Management

Latest News!
December Visit of Animal Magic!
A flavour of behind the scenes at our Christmas Concert!
| | |
| --- | --- |
| | Thank you to all the boys and girls in Tineteriffe. Sixty three boxes are en route to fanilies all around the globe. Norah Collins collected the boxes from Tineteriffe on behalf of Team Hope. |
Halloween Dress Up Day!!

As the ghostbusters theme song played over the intercom, all sorts of ghouls and monsters entered through Tineteriffe's front doors! Our annual dress up in aid of the ISPCA created great excitement!
| | |
| --- | --- |
| | Welcome to our lovely new junior infants who have settled into the the infants classroom with Mrs. Meskell! |
3rd and 4th Class Tour to Rockwell!
| | |
| --- | --- |
| | |
| | 3rd and 4th had a great day out at Rockwell Camp! Water sports and land team activities were enjoyed by all! |
6th Class Trip to Fame!
6th class travelled to Dublin last week, June 19th, to the Bord Gais theatre. They went to see the Fame musical! Following their successful junior entrepeneur programme, they decided to use the profits accrued to travel to Dublin.

It was a great day out, with journeys by train and Luas to navigate!

They are also giving some of the profits from selling their cards to charity. Well done 6th class!
Infants Tour!
Our School Tour

We went to Stonehall Farm and Tons of Fun on our school tour. We went on a bus.

At the farm we saw lots of animals. The llama put back his ears and we were afraid he might spit at us. The alpacas were really fluffy. Timmy the gander was very cross. He followed Mrs Meskell and tried to bite her coat. We saw a white fluffy Husky. He was very friendly. The pretty peacocks made strange loud noises. One peacock was white. We loved the owls. Hedwig the owl stared at us. The barn owls rocked from side to side listening to us and they flew around. We saw lots of hens. Our favourite cow was Oreo because she looked like an Oreo.

We had our lunch in a big shed. After that we went on the bouncing castle and the go-karts. We had lots of fun. Then it was time to go back on the bus to Tons of Fun.

At Tons of Fun we played 'boys catch girls' and 'Ireland's Fittest Family'. We went down the yellow slide lots and lots of times. Sometimes we got stuck in it with our friends. We climbed up really high and waved down at all the grownups.

Soon it was time to go home. We had a lovely day with all our friends.
1st and 2nd Class Tour to Lahinch!
First we had our beach walk. Eleanor took us on the beach walk. We learnt a lot of new things. This is one of the things we learned that sea weed is in ice cream and tooth paste and ketchup. After the beach walk we had lunch. After lunch we played playground. After that we went body boarding and surfing. Then it was time to pack up. Finally we left!

Liam and Oisin!

At the beach it was fun .We went body boarding. It was fun. I liked learning about the animals.

Danny!

On our school tour we went to Lahinch and met a biologist. We learnt how dog whelks eat their food and that periwinkles made the trails in rock pools . Then we went to the surf clinic. A while later we got our bodyboards and went to the beach . After that we went into a playground to play for a while!

Ógie and Seán

I had fun in Lahinch. I was fishing in the rockpools. I jumped on the board. I got tumbled over in the water. I went deeper . I went on waves. I had lunch.

Adam!

In the morning we went for a beach walk. We went body boarding . !was on the red team. We had a great time .We also had fun in the playground.

Grace!

We went on are school tour to Lahinch. I sat beside Jessica . We played with our toys . I played with a toy puppy .

Kathleen!

I went to Lahinch beach. My favourite thing was the body boarding.

Kyle!

We would love to go to Lahinch again. Our favourite thing was body boarding . We also liked the playground. We went for a walk and we saw periwinkles ,dog whelks and anenomes.

Jessica and Harriet !

We went on our school tour. First we did a beach walk and learnt about creatures. Next we went to a playground to have lunch. After that we got to play in the playground before we left. Then we went body boarding it was so much fun. Finally we went back on our bus and went back to the school.

Layla!

I went bodyboarding in Lahinch beach.The waves were strong. It was great fun.I wish I could do it again.It was the best school tour ever. A marine biologist took us for a walk.Her name was Eleanor Turner. We saw an anemone, a crab, a jelly fish and a Perrywinkle. Dog whelk drill a hole in mussels.Did you know seaweed is in icecream and ketchup and toothpaste? We also went to the playground.We ate our lunch there too.In the playground we went on the zipline too. That was fun too. We also went on the seasaw too.We thank Mrs. Sheehan very much.

Emma and Katie!

Me and Darragh had such a good time body boarding in Lahinch. The coaches helped us use the body boards. We went out far into the sea and got huge waves that made us go into the shore!!!.We fell into the water loads of times but it was still fun!!!.And before we went body boarding we went to the park and there was this big climbing frame there. And before that there was a marine biologist that thought us loads of interesting things about sea creatures. The only bad part about the school tour was going home!

Darragh and Alex!

Having fun in the playground during lunch time!

We found loads of sea creatures. The coolest one is that I thought is strawberry anemone. I never knew that jellyfish sting when they're dead. I found lots of animals. I found barnacles!

Eabha!

In the morning we met a marine biologist . She told us about the creatures on the beach

We went body boarding .We had to be split up into four groups. There was blue red yellow and white. What we had to do is if we saw a wave we had to place the body board softly on the water and when a wave came we to kick our legs.

Lucy and Abbie!

Ready to catch some waves!
5th and 6th Class Tour!
Science Blast, May 2019!
Science Blast

On Thursday, 23 rd of May, 6 th class attended the Science Blast in Mary Immaculate.

Science Blast is a non competitive initiative which aims to support core science and maths skills in primary school children.

Our class project was called 'How much fuel can our parents save by driving slower for a fortnight?'

We arrived at Mary I @ 8 am and we set up our STEM project stand. When our stand was put together, we got the chance to go around and look at other stands participating in the Science Blast.

At 10 am we went to see Scientific Sue. She taught us about plastic in the ocean and she showed us the effects of plastic pollution on marine life. There are a lot of alternatives to plastic, such as 'plastic' made from starch which does not harm marine life.

After 11am the judges came around to look at our STEM project. She told us she was an engineer and she was interested in our project as it was a 'relevant and very practical piece of work'

Next, we went to see Marty Jopson and his show called 'Dangerous Equations'. He did dangerous stunts while explaining the Maths behind them. He broke three pieces of wood with his hand because he had worked out how many joules needed to break it. He also sliced a teacher's newspaper with a bull whip. He also used a tessellator to create music using an electric current.

In the final hour, the judges came back around to give us their feedback on our project. She said she was 'extremely impressed with the group's ability to enlist a large group of participants and diligence gathering the information'. She said our 'evidence was clearly communicated using a mix of bar charts, pie charts and tables' creating a 'vibrant display'. She also said our group demonstrated 'energy in communicating their work to the judges' and it was a 'testament to the passion and determination I'm sure they will bring back to their day to day work'.

We had a great day and we really recommend Science Blast.

By 6 th class
Tineteriffe Clean Up on the Eyon Road and School Grounds!
Seachtain na nGaeilge!
Our Viking Experience

Dave Swift, a Viking enthusiast came to Tineteriffe N.S on the 22 nd&23 rd of January 2019.On the 22 nd he came to 6 th class & and on the 23 rd he came to the 3rd and 4 th classroom.

Dave Swift was an archaeologist, but he lost his job during the recession. Now he is a costume organiser for movies and re enactments. He doesn't just specialise in Vikings, he also teaches about 1916, WW2, and War of Independence.

In Viking times Limerick was called Hylmsrek. It was founded around 922 A.D. In these times swords and other weapons were valuable, shields were worth 2 horses. The swords were made out of iron.

The Vikings came to Ireland because they wanted the gold from the monasteries and all the wealthy objects like the Book of Kells.

If there was a lightning storm the monks would take refuge from the Vikings in the round towers and the lightning would blast of the roof of the round towers. Most of the time when the archaeologists find round towers the roof has been blasted off.

The Battle of Clontarf started over losing a chess game, Brian Boru won the battle decapitated by Brodir one of the key fighters during the Battle of Clontarf. After that Brodir was captured and had his stomach cut open then had his organs wrapped around a tree and was made walk around the tree ripping his insides out. The coins were minted by a man called Sitric Silken Beard, the coins were extremely thin and very lightweight.

In conclusion, it was very interesting and we learned loads.

Written by Alex and Sally. 6th Class!

Our Viking Visit

Dave Swift, an expert on Vikings, came to our school on Wednesday 23 rd of January on behalf of the Heritage Council.

Dave is an archaeologist and a stunt man from Ballinasloe, Co.Galway. He has been part of TV projects for BBC, RTE and even acted as Christan Bale's stunt double in a movie once!

When Dave arrived we saw him setting up his gear, which included amazing replicas of shields, swords, clothes and jewellery from Viking times. It was very exciting to watch.

First, he spoke to us about the important dates relating to Vikings in Ireland. He passed around some artefacts throughout the day. He showed us PowerPoints on defence, daily life and medicine, and even showed us some techniques used in battles.

We liked learning about the Gods because the days of the week were named after them - Tyr was Tuesday, Woden was Wednesday, Thor was Thursday, Fria was Friday and Saturn was Saturday. Monday and Sunday are named after the sun and moon.

We had a great day looking at the artefacts and learning about the Vikings. Thanks to Dave for spending the day with us!

By: Fionn (4 th Class) and Odhran (3 rd Class)
Concert Night!
Christmas Boxes travel to Malawi

Norah Collins called to Tineteriffe to collect our Christmas boxes. Well done to the boys and girls who prepared boxes. Norah told is that they travel to Malawi in Africa in time for Christmas!
Liam McCarthy comes to Tineteriffe!
| | |
| --- | --- |
| Our honoured guests; Mary T Ryan, Fr. Seamus Ryan and Enda O Mahoney. Their father, a Cappamore man, won an All Ireland medal for Limerick in 1918 and we shared in the historical significance of the hundred year connection! | Thanks to Noel Hartigan for bringing the Liam Mccarthy to the school. Thanks also to Piper McKay who enhanced our celebration and led the cup through our guard of honour into the school hall! Welcome to Noel Gleeson and James Lundon who joined us for the special day! |

Halloween Games in the Infant Room!

Spider races-ready, steady, go!

Very busy making witches!

Making witches brooms and pumpkin faces from playdough!

Be careful! Don't knock the malteaser!
Halloween Dress Up!

Great excitement in Tineteriffe with the Halloween dress up bring all sorts of strange creatures to the school yard.

All proceeds will go to the ISPCA!

HAPPY HALLOWEEN

It`s late and we are sleepy,
The air is cold and still.
Our jack-o-lantern grins at us
Upon the window sill.
We`re stuffed with cake and candy
And we`ve had a lot of fun,
But now it`s time to go to bed
And dream of all we`ve done.
We`ll dream of ghosts and goblins
And of witches that we`ve seen,
And we`ll dream of trick-or-treating
On this happy Halloween.

GHOST BUS

Underneath the lamp post,
In the middle of the night,
A ghost bus make a silent stop,
A strange and fearful sight.

At the bus top at your corner,
Something big and green climbed down.
It's looking for your bedroom,
And it has searched all over town.

You thought it couldn't find you,
That you were safe and you were sound.
You thought that you could hide,
Where you never could be found.

But now it's almost here,
You know it loves the dark of night.
There's only one thing you can do,
Quick! Turn on the light!

Whew!

THREE LITTLE GHOSTESSES

Three little ghostesses
Sitting on postesses,
Eating buttered toastesses,
Greasing their fistesse,
Up to their wristesses,
Oh, what beastesses
To make such feastesse!

IT'S HALLOWEEN

It`s Halloween! It`s Halloween!
The moon is full and bright
And we shall see what can`t be seen
on any other night:

Skeletons and ghosts and ghouls,
Grinning goblins fighting duels,
Werewolves rising from their tombs,
Witches on their magic brooms.

SKELETON PARADE

The skeletons are out tonight,
they march about the street,
With bony bodies, bony heads
and bony hands and feet.
Bony bony bony bones
with nothing in between,
Up and down and all around
they march on Halloween.

I'M A LITTLE SCARECROW

I'm a little scarecrow,
Raggedy and worn
I wear a hat,
And a shirt that's torn
When the crows come,
I wave and shout,
"Away from my garden-get on out!"

Witch, Witch

Withch witch, where do you fly?
Under the clouds and over the sky.

Witch, witch, what do you eat?
Little black apples from Hurricane Street.

Witch, witch, what do you drink?
Vinegar and good red ink.

Witch, witch, where do you sleep?
Up in the clouds where the pillows are cheap.

Did You Know !!!

Ghosts don't have shadows and leave no footprints !

Wearing garlic around your neck will keep vampires away !

Shooting a werewolve with a silver bullet is supposed to kill it !

If you throw a key at a ghost, the ghost will disappear !

If a candle flame turns blue, it means a ghost is in the house!

Some people believe that cat bones make you invisible !

HOW TO MEET A WITCH

First, put your clothes on inside out.
Then walk backward to where two roads meet.
If you wait until midnight, you will see a witch!

Trick or Treat!

Haunted houses,
Curdling screams,
Freezing bats, torn at the seams!

Full white moon,
Dripping candles,
Roaming forgetful zombie vandals!

Gnarled old trees,
Tossed in the breeze.
Cold ghosts shivering, knocking their knees!

Trick and treating,
From door to door,
Not enough sweets, I must have more!!!
Baking in the senior classes!
Baking in the 4th and 5th classroom.

The garden in Tineteriffe produced some great courgettes agin this year. Last year the 4th and 5th classes made courgetti spagetti. This year the class triede a different recipe and baked some courgette cakes.

The concensus was that they were delicious!
6th Classroom

Again courgettes were the basics for the recipes chisen by 6th class. Very adventurously, they made courgette ravioli and lasgane!
5th and 6th Class Tour to Tayto Park!
On Friday the twenty second of June 5th and 6th class went on a school tour to Tayto Park. We had a great day. Our favourite rides were the Power Surge and the Viking Voyage. After that we went to Blanchardstown shopping Centre. It was the best school tour so far!

y Megan and Colum 5th Class

This year 5th class went on their school tour to Tayto park.We had lots of fun and even went shopping in Blanchardstown afterwards.We think the Cuchulain ride was the highlight of our trip!!

by: Teagan and Heather 5th Class
3rd and 4th Class Tour to Athlone.
3rd and 4th Class Tour!

On Tuesday 26 th of June, 3rd and 4th class went on a 2 hour drive up to Baysports, Athlone. First we went on these really big paddle boards and we had a race. My team and another team tied first. After that we had a 5 minute break. Then we went on an adventure in th

e woods, lit a fire and roasted marshmallows. Next we went on Viking longboats and pretended to be Vikings. Soon after that we went on the inflatable bouncy castles. They were my favourite part. I liked the giant Viking slide. Then we went on the pedal boats. We went on the kayaks which were really fun. Finally we went on the obstacle course. I liked it but it was very short. After that we went to Mc Donalds and then drove home.

Jacob, 4th Class.
My favourite thing this year was when we went to Athlone Baysports on the 26th of June 2018 for our school tour . We went on the MASSIVE BOUNCY CASTLE . We weren't allowed on the worlds tallest floating water slide which weighed 2 tonnes. It looks really good. I loved the inflatable water park. It had lots of slides and you could run and jump.You couldn't dive or flip. We toasted marshmallows as part of a bushcraft. When I was about to eat mine it fell into the fire.

By Tommy D

On the 26th of June 2018 we went to Baysports Athlone for our school tour.We drove two hours to get there and also took a break on the way up. We had very nice instructors. Firstly when we got up there we put on wet suits and went on Paddle boats. After that we went on Viking boats, then we roasted marshmallows and went to the pedal boats and eventually had our break . After that we went to the water park for 45 minute.We went kayaking and went on a obstacle course .After those activities we were so hungry, we went to MC DONALDS and then went home!!

Kaelin, 4th Class!

I went on my school tour yesterday and the drive was two hours and we stopped on the way up . We went to Baysports in Athlone . The first thing we did was sup boards. The sup stands for stand up paddle boards. We were put in groups and had a race and our group won. Next we did dragon boats then we made a fire and roasted marshmallows over it then we had a snack!

Dan, 4th Class

On the 26th of June 2018 we went to BaySports Athlone Co. Westmeath. Our instructors names were Dervla, Ciarán and Andrea. They were so nice. We did so many activites;

First we did SUP boards. We had races on them.Next we did dragon boats, we got split into two groups on one boat Hannah did the drumming and Tommy did the other boat. Then we went into the forest and lit a fire and roasted marshmallows. After that we went to get our lunch. Yummm......We did pedal boating it was fun! We did that for a while then had more lunch. After that we went on the Bouncy castles we got the choice of going on the boat or swimming we chose boat. Then we went kayaking . By Laura and Grace.

For our school tour we went to Baysports, Athlone . First we went on the SUP boards . We kept on crashing into the reeds . Then we had a race, we came second . Then we had had a small lunch . After that we went on the Chinese dragon boats . The drummer would shout row and then the rest would shout row back and row . Then we did bush crafting . Its where you would get rocks and make a circle with them . Then they would give you this tissue and this straw and you would have to find a stick to put your marshmallow on . They would then light the fire . We had to be very careful of the fire .

Soon after that when we all had our marshmallows we went pedal boarding . Me, Molly, Grace and Hannah went on one . They were really fun . Then we had lunch . After we had lunch we went on the water park. You could have swum over or go in the boat . I chose boat because they said it was really deep. But then they tested you you make sure you could move around in the water . I could but it was sooooooo hard to get up . There were these trampolines . You could go down slides . I found it really annoying at the start that you had to swim over to the slides . But after a little while I enjoyed it .

By Ruth, 4th Class!

We went to Baysports in Athlone. We got in wetsuits and started our day. We first did sup boards, next Chinese dragon boat,roasting marshmallows and a water park on the river!! i just had a blast there and wish I could go back right now and just do the whole thing again. My favourite teacher was Blondie. By Leo and Aaron, 4th Class.
Infant Tour to Parson's Green, June 2018
Yesterday we went on a bus to Parson's Green. We went to the playground. We loved the dark tunnel.


There were lots of animals-chickens, llamas, ducks, fawns, goats, sheep, hairy cattle, a donkey, a horse, emus, geese, pigs, a turkey and rabbits.


We made a wishing on the wishing bridge. Near the fairy houses we saw a 'dodie tree'. We saw the fairy king's chair.


We ate chips and nuggets before we went to the shop to buy toys.

We went on a speed boat and we saw a crocodile.

We went on the horse and cart. The horse's name was Tyson. Tyson went really fast.

1st and 2nd Class Tour, June 2018
We went to Ardnacrusha on our school tour. First we saw a man made canal. We saw a telephone wire and we saw a fountain. Next we learned about the penstocks. They can hold 100 tonnes per second. There are 4 penstocks. There were towers full of water for the fish. We watched a gate open.

Brid and Odhran!

Yesterday we went on our school tour to Ardnacrusha. We saw the turbines that make water into electricity. It was so cool, there were three big ones and one small one. After that we went to the old control room and we saw the old buttons, two of them still worked .

Next we saw the dam .We saw a boat go through and the gate go up so the boat could go through.

Eliza and Roisin

I sat beside Jack on the bus. Jack let me sit beside the window! We went to the power station in Ardnacrusha. We had to wear yellow helmets and plastic glasses.We climbed EIGHTY FOUR steps!

Claire and Anne!

We went on a circle rope swing. Sadhbh joined me and Claire. We didint think she liked it. Cathal and Martin were pushing us. We loved it. It was fun.Ross

We went to Mungret park . We went on the zipline in the playground. and we went on the rasing track a nd the swings and on the slide and climbing the hill! Timmy and Jack

We went to the play ground then we had a picnic. Adam and Liam

Kathleen and me went to Mungret playground. First we played on the spinning swing thing. Next we went on the zipline. After that we crossed the wobbly red rope. Then we lay on the rocking green sun bed. Eventually we ate our lunch. Finally we went on the bus to go kayaking! Kathleen and Layla!

In Mungret park we had a picnic. We played on the zip line. It was so much fun there. I loved the hill. We went on the swings, roundabout and slide. Everyone really enjoyed their treats for their school tour. Sadhbh and Maeve

We went kayaking,first. Then we jumped into the water. It was hard to use the paddles.

Essie and Katie

Yesterday our class went kayaking. First we went on kayaks, it was so fun and we started to bumping into each other. Then we started splashing each other.

Alex and Gavin

We had great crack on the kayaks. The wetsuits were so hard to put on. I was trying to knock Alex's kayak. We were wearing helmets to keep us safe from banging our heads off the wall.

Ogie and Eoin

First we learned how to do kayaking. Then we went on the water. After that we jumped into the water. It was fun. Meanwhile we went on a boat trip. We saw a swan in the water .After that we saw a bridge.

.Lucy Jessica

We went on our school tour to Neville Sports. We went canoeing and had so much fun. After that we went on stand up boards.

I was on a stand up paddle board. It was fun. I loved it! First you put on a swim suit. Next you get a life jacket .Then you get a helmet. I went on a kayak and I had to help people.

Jessica!

Kayaking on the River Shannon!
Relaxing!
Off on a boat ride to see King John's Castle.
Just back from their trip!
Tired but happy, heading home!!!
6th Class trip to Ardnacrusha!
Butter making In 1st and 2nd!
| | |
| --- | --- |
| What was life like in my grandparents and great-grandparents time? 1st and 2nd class investigated how to make butter and enjoyed the fruits of their labou,r tasting their home made produce! | |
| | |
| | |
| | |
Community games swimming in Askeaton, Sunday the 25th February.

Cathal, Hannah, Kaelin and Aoife won bronze in the mixed relay after coming 1st in their heat. They had strong competition in the final so it was a great result for them.

Kaelin came first in u12 backcrawl after getting through her heats. Hannah was very unlucky in her heat in that she came a very close third with only two to qualify. Cathal came first in his heat for u12 front crawl and got to the semi final where he finished 3rd and unfortunately again only two to qualify for the final. Aoife came 3rd in her heat for u14 frontcrawl with only two to qualify just missing out by a split second. Holly Hartigan came 2nd in her heat and got to the final also. Jacob Wright came 4th in his heat for frontcrawl. Donnagh, Sadbh and Odhran Diggins were also there representing Muroe Boher. Odhran came 3rd in u10 front crawl. Well done to everyone!
Young Fionn MacCumhaill
First a mom was holding Fionn MacCumhaill. Then a hound came. His name was Phelim. After that, Fionn's mam came. Fionn was older, he was thirteen now. 'I cannot believe that you are thirteen!', said his mom. 'I love hurling,' said Fionn. Bang! He hit the sliotar. After a while, the dog was gone, but he came back and he said that Fionn was his daddy. Meanwhile, an old man came. He had some salmon. He called it the 'Salmon of Knowledge'.

Gavin; 1st class reporter!
Concert Night! December 2017! Behind the scenes!
Christmas Boxes

Thank you to all who sent in Christmas Boxes for children in need. Thirty eight boxes were collected by Norah Collins on behalf of Team Hope.

Here are some of the children from 1st, 2nd, 3rd and 4th with their boxes.
Halloween in Tineteriffe!
Hunt Museum Visit, September 2017!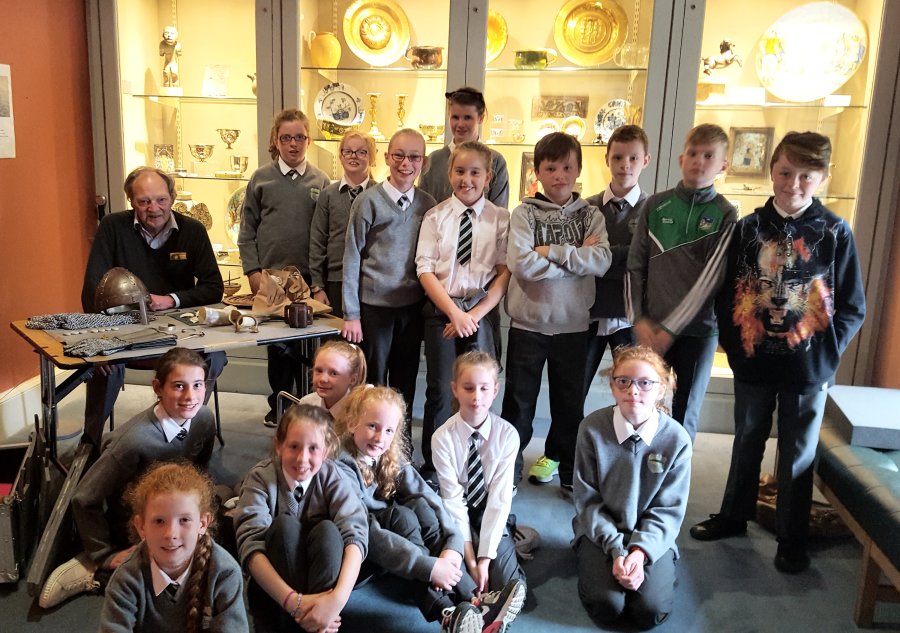 OUR TRIP TO THE HUNT MUESUM

On the 9 th of September 2017, 5 th and 6 th class went to the Hunt Museum in County Limerick. We went there as we learn about art at school. We went to see paintings by two famous Irish artists, Jack B Yeats and Paul Henry.

First, we got on the bus and we drove to the Hunt Museum. My partner was Hannah and Sophie's was Heather.

Then, we got to the Hunt Museum and went to the Viking workshop and got to touch all the interesting artefacts. Our guide was Shay and he told us all about Viking history. There were weapons and combs and stuff they used in their own lives.

Next we went to see the fabulous paintings by Jack B Yeats and Paul Henry .Sophie's favourite artist was Paul Henry and mine was Jack B Yeats.

Finally we were finished at the art exhibition in the Hunt Museum and we set off on our journey back to Tineteriffe N.S.

We learnt a lot at the Hunt Museum about Jack B Yeats and Paul Henry .We would definitely recommend it to others .It was a great day out with all our friends.

By Sally, 5th Class!

Recount: Our Trip to the Hunt Museum

On Tuesday the 9 th of September, 2017 we went to the Hunt museum with 6 th class to see the Jack. B. Yeats and Paul Henry exhibition. We went because it was part of our art curriculum.

First we got on the bus. I was sitting beside Scott, my friend. I had already been to the exhibition but I liked it the first time so I was excited.

Then we got to the museum. We had to wait for the 5 th class to look at the pictures but we got a handling session while we were waiting. A man showed us things from Viking times such as swords, armour and clothing items.

After that we got to see the pictures .They were really good and it was interesting learning about them. I also loved learning about the artists themselves. I liked Paul Henry's paintings more than Yeats.

It was a great trip. I would definitely recommend it. It was really interesting and I enjoyed it a lot

By: Alex, 5 th Class
U21 Cups visit Tineteriffe!
| | |
| --- | --- |
| | Tineteriffe was delighted to have the Munster U21 and the All Ireland U21 cups visit! Ann Fanning, mother to past pupil Darragh ( full back on the Limerick team), brought them for us to enjoy! The children enjoyed hoisting them victoriously in the air! Hopefully one of them will the the opportunity to do so in the future! |
| | |
| --- | --- |
| Final day for 6th class; Presentations and farewells! | |
| | |
Infant School Tour, June 2017
Infant School Tour.
| | |
| --- | --- |
| | The infants had a great year on their school tour, travelling to a farm firstly and then onto Dreamworld to finish. All had a lovely time! |
| | |
| | |
Mayoral Visit to Tineteriffe!
Mayoral Visit to Tineteriffe!

We were delighted to welcome the Limerick mayor, Kieran O' Hanlon to Tineteriffe N.S. He was joined by the deputy mayor, Noel Gleeson and local councillor, Brigid Teefy. He wore his robes and mayoral chain and we were all interested to learn a little about the hisory of the chain and the role of the mayor in Limerick.

In honour of his visit, we wore our Cappamore and Limerick colours and sang a local song 'The Fair of Cappamore', to welcome him to our parish. We were pleased to find out that he was a rugby fan as our parting song is the well known rugby and Limerick song, 'There is an Isle!

5th class with the Limerick mayor, Kieran O' Hanlon

Junior and Senior Infants with the Limerick mayor!

5th and 6th classes with the Limerick mayor!
Limerick Clean Up in Tineteriffe!
Pancake Day!
| | |
| --- | --- |
| | |
| | Pancake Day in Tineteriffe is one of the children's favourite day in school! The Parent's Council were busy cooking and tossing pancake to feed all the classes! All proceeds this year went to the 95FM Stop Tour. |
| | |
10@10! Tineteriffe Keep Fit together!
10@10! Tineteriffe joins Operation Transformation!
<
Halloween Fun!
Congratulation to the Cappamore Camogie Team!!!
| | |
| --- | --- |
| Tineteriffe N.S. were delighted to welcome the newly promoted Cappamore camogie team to our school! What a great achievement! | Many of the girls in Tineteriffe play camogie and seeing such enthusiasm for the game is a great incentive to continue to practise and participate! Thanks to all who visited!!! |
6th Class Graduation, Congratulations!
6th Class, 2008 - 2016!

Congratulations to Tineteriffe's 6th class who graduated on a lovely summers evening. It was a very nostalgic night as we remembered their eight years spent in school.

Thanks to Fr. Browne who celebrated mass and also to the Parent's Council who prepared a wonderful feast for us all to enjoy afterwards.

We wish them all the very best in their chosen secondary schools.
Teddy Bear Picnic in 1st and 2nd class, June 2016!
Infant Tour to Parsons Green, June 2016
1st and 2nd class tour to Middleton Farm, June 2016
4th and 5th Class Forts
Raising of the Irish Flag on Proclamation Day!
March 15th, 2016!

What a beautiful day and a wonderful setting for the raising of the Irish flag on Proclamation Day! Tineteriffe pupils and staff gathered in the school garden to proudly assert our Irishness. We sang Hail Glorious St. Patrick to begin, followed by an excerpt from the proclamation. Then as Caoilinn played an old Irish air on the concertina, Rose, Heather and Alex, hoisted the Irish flag into the sunshine and gusting breeze.

We prayed for all those who died during the rising, the first world war, and loved ones whom we ourselves remembered. Finally we hoped for peace thoughout the world and an end to violence. As we faced the Irish flag, all voices joined in song to conclude with Amhran na bhFiann.

The rest of the day was enjoyed by all, with a ceilí and a trath na gceist, and more lovely events to look forward to on Wednesday as a continuation of our Seachtain na Ghaeilge!
Swimming Dates;
| | | |
| --- | --- | --- |
| Juniors and Seniors | First, Second and Third Classes | 4th, 5th and 6th Classes |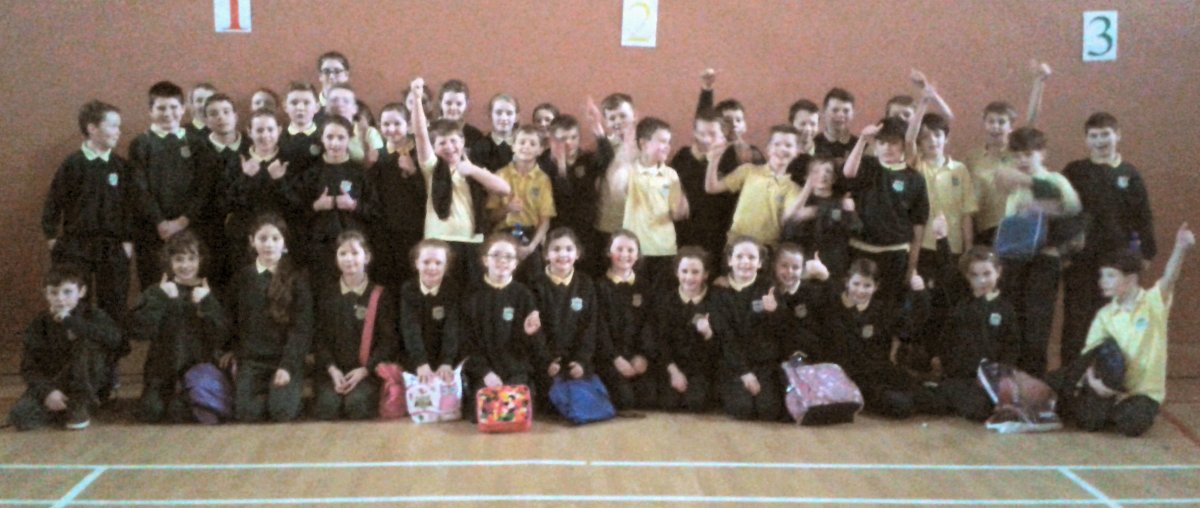 Team Tineteriffe!
Athletics in Cappamore!

Today 5th and 6th girls and boys went into Cappamore to do athletics. It was really fun and we did lots of activities. We raced against Scoil Chathriona, Bilboa and Croom .We start off with chest pushing and triple jumps and vertical jumps .I did the chest push. Then we had lunch and afterwards we did the running and obstacle courses. We won some and we lost some . At the end we took a picture and we got back on the bus and went back to school.

Anna; 6th Class.

My Athletics Competition!!!

On Thursday , 3rd 4th 5th and 6th went to Cappamore sports hall for an athletics competition. We were against Bilboa, Scoil Chaitriona and Croom. All schools were really good. First we did all the field events. That was stuff like chest push, jumping, javelin and stuff like that. It was kind of hard to see how we did in that field events because a lot of them went on at the same time.
After a while we started on the running events. Tineteriffe won both of the races I was in. Tineteriffe won most of their running races actually. If we get through to the next round, we will be going up to Athlone for the national competition. Everyone had a great day anyway.

Rose; 6th Class

Today most of 4th 5th and 6th class went to Cappamore sports hall for athletics. 4th class were the junior group and 5th and 6th class were the senior group. The first group to go were the junior group they were very good and fit. Next the senior group went and they were great. The schools that went were Tineteriffe, Scoil Cathriona and Bilboa. There were Ty students and college students there to help us out through the day. The people that organised the event provided snacks and drinks for all the school and we all had our own lunch as well so we were not hungry . We got back to the school at around 1:30 to 2:00. We had a lot of fun on our day out and we are lucky that we get opportunities like these ones. We are grateful to our teachers for bringing us to the athletics.

Jeffery; 6th Class
Ist and 2nd Class;

On Wednesday 17th of February teacher let us have a Bring and Show Day. We had some interesting things such as a planetarium, a horseshoe, American dollars, daffodils, a certificate and an American baseball bat. We looked at constellations. One of them is called Hercules and another Cassiopeia . We played a game on the White board where we had to find the constellations . It was difficult but fun.
Written by Shane and Jacob (2nd class)

This is a picture of 1st and 2nd class proudly displaying all their wonderful objects!
Community Games East Limerick Competition!

Well done to the 5th and 6th class quiz teams that participated in the table quiz held in the Community Centre in Cappamore on Sunday 14th of February. One of the teams came 2nd and go forward to the county competition to be held in the Woodlands Hotel!

County Competition

The next round of the Community Games Quiz takes place on Thursday 25th February in the Fitzgerald's Woodlands House Hotel, Adare at 7pm sharp.

School from East Limerick who have qualified are;
Cloverfield N.S.
Tineteriffe N.S.
Bilboa N.S.
Monaleen N.S.
Pancake Tuesday in Tineteriffe!
| | |
| --- | --- |
| Infants tossing the pancakes! | |
| Yummy, yummy! Happy faces! | Up, up and away! |
| What a throw! | |
| Well done! | Smiles all round from 3rd class! |
| 5th and 6th classes! | Thanks to the wonderful Parent's Council for organising one of the children's favourite events of the year! The money raised was for iCan, a children's arthritis network. €280 is on its way to this worthy cause! |
| | Enjoying their first Pancake Day in Tineteriffe |
| | |
Board of Management Meetings; 2017-2018
The Board of Management met on Monday 2nd of October at 8.30pm. Denis Leonard detailed the treasurers report. Kitty Sheehan gave an account of events in school since the last meeting in her principal's report. THe Boards reviewed the latest ammendments to the Child Protection Policy and ratified them. The Substance AbusePolicy was also reviewed with no ammendments. The Board discussed the planning permission next door in particular the Section 47 atttached. The Board welcomed the new Parents Council newly appointed. Summer works carried out in the school were detailed. The Board will meet next in November.
Christmas Celebration!
Congratulations to 1st and 2nd! What a win! Look at their video!!
| | |
| --- | --- |
| Cathal and Ruth received the prize from Aodhan O' Riordain at Farmleigh House on Thursday 10th December. | |
Someone like me

Someone like me

I am special

I'm unique

We all look different in every way

We are brown, we are blonde, I am red, hip hurray.

Some are quiet, some are shy

Some can often easily cry,

Some are calm and some are wild,

Full of laughter in their mind.

We like to draw and we like to write,

We like to colour into the night,

We like to run and we like to play,

We love to do Maths all day.

We can't all hear with our ear,

We can't all talk or walk,

Some of us find it hard to learn

We all have different needs.

We must remember every day,

People are different in every way,

Be kind to others with different needs,

Give them a chance to shine

Yes!

Give them a chance to shine!

1st and 2 nd class entered a competition in October called 'Someone like me' run by the Dept of Justice and Equality. It was a competition to raise awareness and acceptance of people with special needs. We got word on Monday 1st December, that we were the Limerick County Finalist! We are very excited to have won 2,000 euro worth of computer equipment for our school and so we go forward with a chance of winning at all Ireland level.

Well done 1st and 2nd Class and their teacher Mrs. C. Ryan!
4 th and 5 th classes cooked pumpkin soup using pumpkin that they grew in the school garden. The children contributed extra vegetables and coconut milk!
| | |
| --- | --- |
| | |
| | The soup was served with home-made spelt rolls baked that morning by the Spratt family. It was delicious and nutritious and all leftovers were enjoyed by our resident hens/ composter! |
Presentation of the Irish Flag to Tineteriffe N.S., November 2015
They presented us with an Irish flag. the green on the flag represents the Irish republic. The white means peace. And the orange is to represent Northern Ireland.
Jeffrey; 6th class reporter!

A moments silence for victims of terrorism


Today two people from the defence forces came to our very proud school. They came and presented us with an Irish flag and the Irish proclamtion that was first read on the steps of the GPO 100 years ago! The men told us about weaponery and going abroad. They both had a lot of medals. They answered all of our questions very well!
Grace; 6th class reporter.


They were telling us not to leave the Irish flag up when it is dark and to raise it when it is bright!
Jamie; 5th class reporter!

Today the Irish Defence Forces visited Tineteriffe N.S. They presented the Irish flag to the school. Two members of the army came. They told the pupils about the 1916 rising. The school also had a moment of silence for the victims of the Paris attack.Then the pupils asked questions of the two visitors. Two students read out a section from the proclamation and finally the school sang Amhráin na BhFiann.

Reporter; Emma 6th Class!

Today two members of the Irish Defence Forces came to visit our school. They presented us with an Irish flag and an Irish proclamation. They told us all about their journeys across the world and what it is like to be in the army. They told us about the guns and vehicles the use. Every morning they raise the Irish flag and in the evening they lower the flag. They make sure it doesn't touch the ground. They also told us about the meaning of the flag's colours and who created the flag. When the soldiers left, we all gave them a round of applause.

Reporter; Anna 6th class reporter!

Two memn from the army came to our school today. The sergeant was talking all abour the flag. The corporal had six or seven medals. They were wearing a sort of blazer, a green tie and a sort of very light gree shirt. they were alos wearing a cap with a flat surface on the top. They answeree nearly all of our questions. Anna and Ogie went up to receive the flag. WE all had a great time. I might want to join the army my self when I am older.

Seamus; 5th class reporter!
Recipe writing, fairy cake making and decorating in 1st and 2nd classes, Nov 2015
| | |
| --- | --- |
| | |
| | |
| | Ist and 2nd Class Art Work! |
Remember if you see a bee, let it be! November 2015
Buzzing with Bees!

We had a very informative session with Sinead Finn about bees, their habitat and habits. Not only that, but she helped us to create different things to encourage and support bees on our school grounds. 5th and 6th made a bee hotel, which allows solitary bees ( of which there are 78 different varieties in Ireland) set up home. Other classes created flower papers which can be laid on the soil in spring time so that wild flowers will grow. The species chosen are favourites of bees.
Great fun in Tineteriffe on our Dress Up Day in aid of the ISPCA!
The junior and senior infants about to tuck into their delicious Halloween cupcakes! They had great fun baking in their classroom using the eggs they collected from our Tineteriffe hens every morning.

Halloween Dress Up!

What a great day we had in Tineteriffe surrounded by all sorts of ghouls and monsters! Many characters from stories and films visited us and we all laughed at the ingenuity shown by the boys and girls!

The money we collect as part of the dress up is donated to the ISPCA in Limerick to help rehouse and feed animals in need.

Have a lovely Halloween break!
History in the Infant Room!

Juniors and senior infants brought in toys that their mums, dads, grannies and grandads had when they were small.We had great fun looking at the old toys and comparing them to some of our new toys.

October 2015!
Our new junior Infants September 2015!
A Circle of Friends

We've joined together as classmates
as the new year begins...
A year full of learning
while we become friends.
We'll share and be kind
as we work and play.
And our friendship will grow
with each passing day.

Juniors and seniors
Cappamore County Champions!

The pupils of Tineteriffe were delighted to welcome Cappamore's football champions to our school. Paul Leahy ( captain ) explained to the children about the cups they'd won and their journey to the final. Many of the children wore their Cappamore colours for the occasion.

On the concert night in the community centre in Cappamore, three of the team; Brian Leahy, Andy Murphy and Seamus Humphries (a past pupil) presented medals to the winning football and hurling teams of 2012. It was a pleasure to welcome our sixth class boys of last year onto the stage.
The New Classroom has begun!
Foundations being dug.

Sub floor being compressed.

October 2011

The diggers are in! The classroom work has begun with some of the clearance work in the carpark begun also! Each day we have something new to admire and interest from the children in the development is huge!

Children admiring work in nearby carpark area.
| | |
| --- | --- |
| | Calendar for 2019- 2020 |
| August | School reopens on Thursday August 29th. |
| September | |
| October | Halloween break; Monday 28th October to.. |
| November | Halloween break; Friday 1st November. School Closed; Wednesday 20th; Staff training day. |
| December | School Closes; ½ day, Friday 20th December |
| January | School reopens on Monday 6th January. |
| February | Mid-term break ; Thursday 20th and Friday 21st Feb |
| March | School closed Monday 16th and Tuesday 17th March Bank Holiday |
| April | School closes; ½ day Friday 3rd April (Easter Holidays). School Reopening Monday 20th April |
| May | Monday 4th May Bank Holiday , Tuesday 5th May School Closed |
| June | Monday 1st June Bank Holiday , Tuesday 2nd June School Closed, ½ day Thursday 25th; June Summer Holidays |